(top photo project included in list, bottom photo source)

So I recently discovered through daysoftheyear.com, that March 31st is Crayola Crayon Day!  I figured it would make an awesome diy list to share to celebrate what originated 111 years ago!!  The creation of the magical, ageless crayon. Here's what the site had to say about it:

Red, Orange, Yellow, Green, Blue, Indigo, Violet…no, we're not talking about a rainbow, but rather just some of the 400 different shades of crayon colours Crayola has produced since 1903!  What a perfect opportunity to celebrate its bright and colourful addition to the world with Crayola Crayon Day!  Crayola began its life as a company when cousins Edwin Binney and C. Harold Smith took over a pigment business in 1885 that Edwin's father owned. Since then, they have produced a core set of 120 crayon colours; but they have also come out with many unique sets; including metallic coloured crayons, gem tones colours,and even scented ones.  So, why not let your inner child out on Crayola Crayon Day? Find a colouring book and a box of Crayola crayons, and get to work? It's a therapeutic and enjoyable way to pass some time, and you can even hang your finished picture on yourfridge when you're done!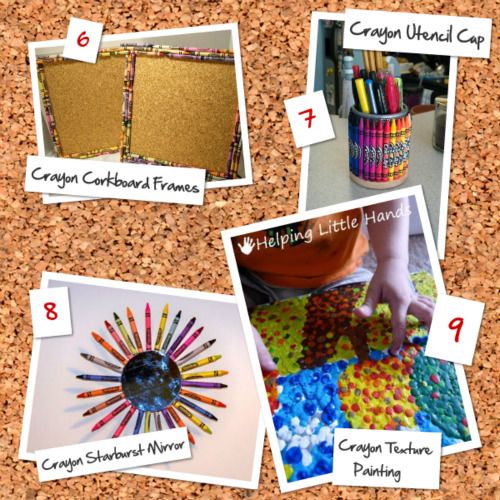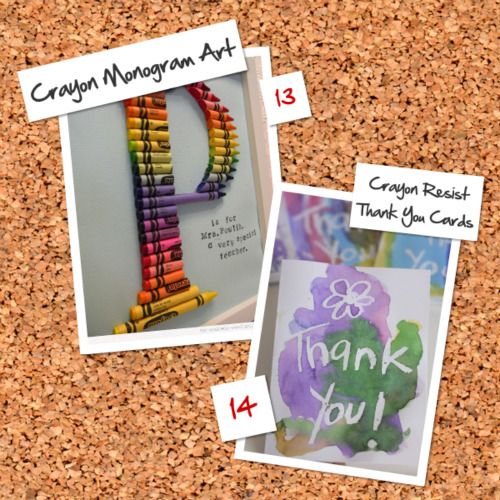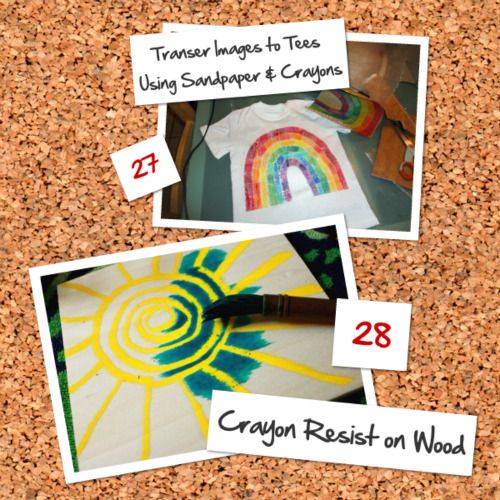 1. say yes  /  2. picklebums  /  3. little inspiration / also pieces of polly and flower patch farmgirl  /  4. idlewife  /  5. a faithful attempt  /  6. sorry source unknown - similar tutorial  7. pinterest (Christine Snyder)  /  8. crafty confessions  /  9. pieces of polly  10. ehow   /  11. crayola's pinterest board (they have tons of ideas)  12. home based mom   /  13. chic cheap nursery  /  14.  happy hooligans  /  15. totally tots  /  16.  crafts by amanda  and kinderdi  /  17.  crafts unleashed  /  18. under the sycamore  /  19. my frugal adventures / also mini-eco  and  let's explore  /  20. learn create love  /  21. itkupilli  /  22. spoonful  /  23. kix cereal  /   24. lines across and dollar store crafts  /  25.  special occasions   /  26.  wild olive and youtube (martingale)  /  27. one potato, two potato, three potato, four  /  28.  artful parent
Crayon Sorter |  my life of travels and adventures
Crayon Block |  ana white       |       3D Melted Crayon Art  |  squidoo
DIY Crayons Using Glue Stick Containers | kids activities blog
'On-The-Go' Travel Box Using Wipes Container | deal wise mommy
Melted Crayon Salt Dough Ornaments | the artful parent
Recycle a Soda Bottle to Store Crayons | create with mom
Painting With Melted Crayons | gathering beauty

Activities for Crayon Related Picture Books:
The Crayon Box That Talked | fun with firsties 
The Day The Crayons Quit | enchanted homeschooling mom
Harold and the Purple Crayon | dundee montessori

Note: My apologies to Crayola. While it uncertain which crayons were used in all 
of these tutorials, it is apparent that two of these projects were created with the 
use of a crayon brand that isn't. I can't speak for them but, I'm sure they send
out their apologies, too.