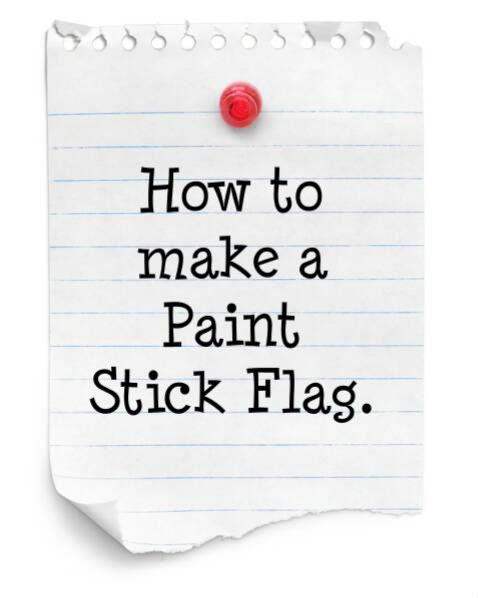 Paint Stick Flag
Show your true stripes – and stars – with this easy-to-make Americana flag. Kids will love the hands-on techniques; Mom will love the price tag!
size: 7-5/8"x12"
Materials
• Wooden items: 4" star cut-out, Loew Cornell™ Woodsies™ Wood Slat, paint stir sticks, seven
• Sawtooth hanger, 1"
Tools
• DecoArt® Americana® Acrylic Paints: Country Red, Uniform Blue, Warm White, Burnt Umber, Black
• DecoArt® Americana® Gel Stain Medium
• Adhesives: craft glue, glue gun
Basic Supplies
ruler, pencil, paintbrush, palette, painter's tape, sanding block, soft cloth
Directions
1 Measure four stir sticks and tape off at the halfway point with painter's tape.
2 Paint left side of each taped stick Uniform Blue; let dry. Apply second coat, if needed; let dry. Remove tape.
3 Paint star and one remaining stir stick Warm White. Paint two remaining stir sticks Country Red. Finish painting two half-blue stir sticks Warm White and two Country Red. Let dry completely.
4 Heavily sand edges of star and each stir stick to remove some of the paint.
5 For an antique effect, as shown in second photo, mix Gel Stain Medium and Burnt Umber paint according to product directions. Apply to painted wooden pieces with a brush and allow to sit for a few minutes. The longer the stain remains on the wood, the darker the antiquing will be. Remove excess stain with a clean, dry cloth.
6 Center sawtooth hanger at one short end of wood slat; attach with hot glue gun.
7 To assemble flag, apply a generous layer of craft glue over front of wood slat. Line up painted stir sticks facedown on work surface, using photo as placement guide. Press glued side of wood slat facedown onto center of stir sticks. Weight with heavy book, if needed, and let dry completely.
8 Use craft glue to attach star to center of blue field; let dry.
All info found on Crafts 'n Things
project by Meggan Maravich